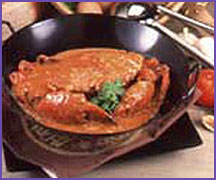 Indian Cooking Recipe : Patrani Machchi
Ingredients :
Coconut paste
100 gm garlic
100 gm corn flour to dust the fish
4 tbsp oil to fry, if required
50 gm grated coconut white part only
20 gm chopped coriander
3 green chili seedless
6-7 garlic cloves
1 tsp coriander seeds
1 tsp jeera
4- 5 pepper corn
1 tsp red chili powder
1 tsp sugar
salt to taste
3 tbsp lemon juice
400gm fish sole (diced with pockets)
malt vinegar 50 ml
salt to taste
banana leaves to wrap fish
1 tbsp groundnut oil
lemon wedges for garnish
Method :
Marinate the fish with malt vinegar and salt. Keep aside for 20-30 min.
Make coconut paste out of all the above ingredients
Wash and wipe banana leaves and apply groundnut oil
Stuff the pockets in the fish with coconut chutney and spread the rest on both sides.
Wrap in banana leaves each piece separately and steam for 30-min.
Unwrap and serve with lemon wedges.