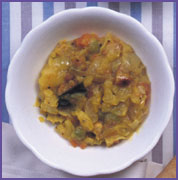 Indian Cooking Recipe : Cauliflower Pickle
Ingredients :

1 cauliflower
5 limes
1 pav (heaped) red chillies
½ pav grains of salt
? pav mustard seeds
2 tsp table salt
1 small piece haldi
1 small piece asafoetida
Method :

Wash cauliflower and cut into small pieces.
Combine juice of lime and table salt with the pieces in a vessel.
Add salt (grains) to ½ litre of water in another vessel. Boil and cool
Using this salt water grind red chillies with asafetida and haldi.
When half done, add mustard and grind to a fine paste. Pour the paste in the first vessel. Mix well.
Tender cucumber, carrot or green mango pieces can be added, if desired.