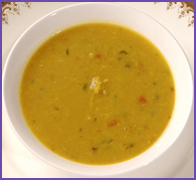 Indian Cooking Recipe : Dal Fry
Ingredients :
½ cup spilt red lentils
¼ cup spilt yellow lentils
2½ cups water
1" piece ginger, minced
2 green chillies, finely chopped
2 cloves garlic, minced
¼ tsp haldi
1 onion, chopped
1 tomato, chopped
¼ tsp mustard seeds
4 dried red chillies
1½ tbsp oil
few cilantro leaves, chopped
salt to taste

Method :
Boil the lentils in water salt and haldi for about 15 to 20 minutes or until it becomes soft.
Mash the lentils till it becomes creamy. If the lentil mixture looks too dry, put some water.
Heat the oil in a pan. Put the mustard seeds and red chillies.
Put the onion, ginger, garlic and green chillies and fry for 2 minutes.
Put the tomatoes and cook for another 2 minutes.
Put the lentils and mix thoroughly. Cook for sometime.
Garnish with cilantro.
Ready to serve.