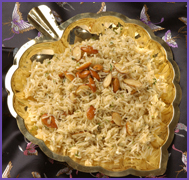 Indian Cooking Recipe : Navratna Pulav
Ingredients :
2 teacups uncooked rice
1 tbsp cashewnuts
1 tbsp raisins
2 sliced onions
2 tbsp paneer
1 teacup boiled green peas
½ teacup boiled and diced carrots
1 tsp shah-jira
2 sticks cinnamon
2 cloves
3 elaichi
1 tbsp fruit pieces
¼ tsp saffron
4 tbsp ghee
salt to taste
onion roses
To be ground into a paste :
4 cloves garlic
1" piece ginger
4 green chillies
Method :
Boil the rice. Each grain of the cooked rice should be separate. Drain and cool.
Heat the ghee and fry the cashewnuts. Take out and keep aside.
Fry the raisins in the same ghee. Remove and keep aside.
Sauté the onions in the same ghee till it becomes golden in colour.
Remove and keep aside.
Put the shah-jira, cinnamon, cloves and elaichi to the ghee and fry again.
Add the rice, paneer, green peas, carrots, fruit pieces, paste and salt and mix properly.
Warm the saffron a little, rub in a little warm water and add to the rice.
Garnish with the fried cashewnuts, raisins, onions and onion flowers.
Ready to serve.