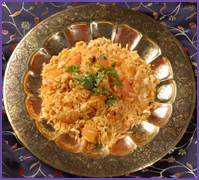 Indian Cooking Recipe : Vegetable Pulav
Ingredients :
2 teacups uncooked rice
2 teacups sprouted val dal
3 sliced onions
450 grams small potatoes
450 grams small onions
1 coconut
½ tsp haldi powder
4 garlic cloves, crushed
4 tbsp oil
oil for deep frying
salt to taste
For preparing masala mixture :
1 teacup coriander, chopped
½ grated fresh coconut
4 tsp dhana-jira powder
2 tsp chilli powder
4 tsp sugar
1 tsp garam masala
½ tsp haldi powder
salt to taste
Method :
Deep fry the sliced onions in oil until it turns golden brown and crispy.
Grate the coconut, put 5 teacups of water and allow to stand for a little while. Blend in a liquidizer and strain. Make a cross of 2 slits at right angles on the potatoes and small onions.
Stuff the slits on the potatoes and onions with the masala mixture.
About half the masala will remain. Heat the oil in a vessel, put the crushed garlic and sauté for some time.
Put the rice, dal, coconut milk, haldi powder and salt.
Cover and cook slowly. When three-fourths done, put the remaining masala mixture and cook for a few minutes.
Otherwise, put all the masala, cover with a lid and bake in a hot oven at 450ºF for 20 minutes.
Garnish with fried onions.
Ready to serve hot.