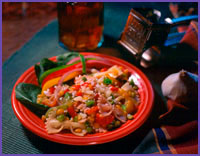 Indian Cooking Recipe : Pasta Salad
Ingredients:
2 teacups boiled macaroni
3 large cucumbers, finely chopped
1 teacup fresh cream
1½ teacups thick curds
1 tsp mustard powder
2 green chillies, chopped
3 to 4 tsp powdered sugar
salt to taste
For garnishing
Capsicum slices
Cucumber slices
Method:
Beat the cream till it becomes thick.
Put the curds, mustard powder, green chillies, sugar and salt and mix properly.
Put the macaroni and cucumbers and mix properly.
Fill the salad in a bowl and allow it to chill for 2 hours.
To serve, unmould on a serving plate.
Garnish with capsicum slices and cucumber slices.
Ready to serve cold.