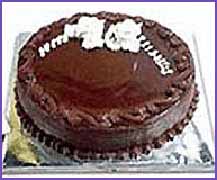 Indian Cooking Recipe : Buttermilk Cake
Ingredients :
1 2/3rd cup maida
½ cup cocoa
½ tsp baking powder.
½ tsp baking soda
½ tsp salt
1 ½ cup castor sugar
½ cup butter
2 eggs
1 tsp vanilla essence
1 cup buttermilk
Sieve maida, cocoa, baking powder, soda and salt and keep aside.
Mix egg yolks, butter and sugar.
Add little buttermilk and fold it in.
Add little of the maida mix and mix it.
Continue this alternating buttermilk and maida mix till both are used up.
Add well-beaten egg whites and mix.
Bake at 250ºC for about 40 minutes.