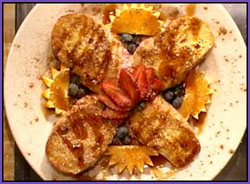 Indian Cooking Recipe : Cheese Topped Toasts
Ingredients :
7 to 8 bread slices
1 grated carrot
1 cucumber, finely chopped
2 tbsp soft butter
1 tsp mustard powder
3 tbsp fresh cream
5 tbsp grated cheese
1 green chilli, chopped
salt to taste
Method :
Toast the bread slices.
Cream the butter, mustard powder and 3 tbsp of cheese together until it becomes very soft.
Add the carrot, cucumber, green chilli, cream and salt and mix properly.
Spread it over the pieces of toast and sprinkle the remaining cheese on top.
Grill or beak in a hot oven at 450ºF for at least 10 to 15 minutes.