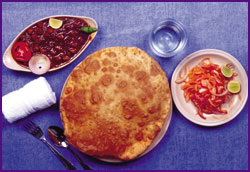 Indian Cooking Recipe : Chole Bhature
For chole :
1 small can of garbanzo beans
½ tsp of ginger paste
½ tsp of garlic powder
1 tsp of cumin seeds
2 tbsp of oil
2 tbsp cilantro (coriander leaves)
6-7 mint leaves
½ tsp of turmeric powder
½ tsp of chilly powder
2-3 bay leaves
2-3 cloves
½ tsp garam masala
1 medium sized onion, finely chopped
1 big tomato
1½ cup of water
Salt to taste
For Bhaturas :
1 can of Pilsburry unbaked country biscuits only
1 cup of oil to deep fry the bhaturas
For the Bhaturas :
Pour the oil in a kadai. Wait until it is well heated up.
Open the Pilsburry biscuit can by twisting it. There will be already made mounds and roll them into 5-6 inch sized bhaturas.
Fry them in oil. Put them in an aluminium foil wrapped around a plate.
Take 2 tablespoons of oil in a pressure cooker and heat it.
Add garlic powder and make it dark brown. Then add cumin seeds fry till they start spluttering.
Now add bay leaves and cloves. Add diced onions. Fry them till they are light brown.
Now add the rest of ingredients including water except the cilantro and mint leaves.
Close the pressure cooker and wait for 3 whistles to come or cook for 5-7 minutes.
After that Transfer the Chole into a serving Bowl and garnish with cilantro and mint leaves just before serving.
You can also garnish with thinly sliced long pieces of onion and a piece of lemon split up into 4 pieces.