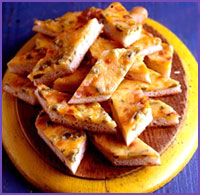 Indian Cooking Recipe : Chilli Cheese Toast
Ingredients :
½ teacup milk
1 tbsp flour
2 cloves garlic, crushed
4 tbsp grated cooking cheese
4 tbsp grated table cheese
2 green chillies, chopped
6 to 8 bread slices
2 tbsp butter
salt and pepper to taste
Method :

Heat the butter in a vessel and sauté the garlic for a few seconds.
Put the flour and sauté again for ½ minute.
Put the milk, ½ teacup of water, the table cheese and 3 tbsp of the cooking cheese.
Keep on stirring until the mixture becomes thick.
Put the chopped green chillies. Toast the bread slices.
Apply a little of the chill mixture on the toasts, sprinkle the balance cooking cheese on top and grill until it becomes golden in colour.
Cut into pieces and serve hot.