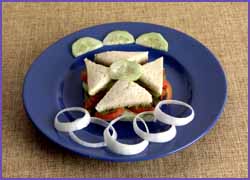 Indian Cooking Recipe : Colourful Sandwiches
1 loaf of machine sliced bread
1 cup green mint chutney
100 gms butter
1 cup tomato sauce
Trim crust from all the sides of the bread and make it even. Four slices of bread make one set.
Apply butter to two slices of bread and sandwich it.
Apply green chutney to one slice bread and top it, turn the full three slices, apply tomato sauce and top it.
Press well and cut into long stripes or triangle shapes.
Ready to serve.