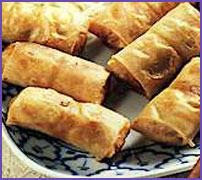 Indian Cooking Recipe : Fresh Spring Rolls
Ingredients:
10 Spring roll skins
1 tbsp Vegetable oil
1 tsp Brown sugar
2 tsp Salt
1 clove Garlic, chopped
1 Medium-size onion, finely-sliced
2 cups Fine-chopped cabbage
1 cup Pre-soaked cellophane noodle
2 cups Bean sprouts (Pare Pin Puak)
2 cups Shredded carrot
1 cup Leek, finely-sliced
4 Eggs, cooked into 4 omelets, sliced thin
1 cup Crab meat
1 cup Shrimp, peeled
1 cup Tofu, cut into 1/2-inch cubes, deep-fried
1 tbsp Oyster sauce
2 tbsp Soya sauce
1/2 tsp Black pepper
1 tsp Sesame oil
10 Chinese lettuce leaves
1/2 cup Scallion or spring onions (green part only), sliced thin Dip
2 cloves Garlic, pounded
1/2 inch Fresh ginger, pounded
2 tbsp Tamarind paste (Ma-gyi Ye)
1 tsp Sugar
1 tbsp Soya sauce
2 tsp Fish sauce
1/2 tsp Salt
Method:
Mix them well together to a smooth sauce.
Stuffing Heat the oil in the wok & stir-fry garlic, onion & brown sugar. Add the shrimp, crab meat, 1-tsp. salt and continue stir-fry for 1 minutes.
Add the cabbage, bean sprouts, carrots, leek, 1 tsp. salt, oyster sauce, Soya sauce and continue stir-fry.
Add cellophane noodle & deep-fried tofu and continue stir-fry.
Add black pepper & sesame oil just before the wok is removed from the heat.
Presentation
On each piece of spring roll skin, lay a piece of lettuce, 3 tbsp. full of stuffing, a few sliced omelets, scallions and make a roll.
Serve together with the dip.