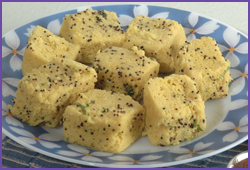 Indian Cooking Recipe : Kham Dhokla
Ingredients :
1½ cups gram flour (Besan) sieved
3 minced green chilies
½ inch piece ginger, minced
½ tsp turmeric powder
½ tsp coriander and cumin powder
2 tbsp curd
½ tsp citric acid (or 1 tsp lemon juice)
3/4 tsp soda bicarbonate
3 tsp sugar
1 tsp salt to taste
Method :
Heat oil in a pan and put in cumin seeds.
When they crackle, add red chili powder, potatoes, peas and salt.
Heat pressure cooker with enough water and mix the above ingredients with about 1 cup warm water to make a slightly thick batter.
When the water in the pressure cooker starts to boil, pour the mixture into a wet thali or shallow pan and steam for about 15 minutes without weight.
When cool, cut into pieces and garnish with finely chopped coriander leaves.
Heat about 3/4 cup water with one teaspoon sugar. When it boils, pour over dhoklas. Allow it to cool.
The water will get absorbed and dhoklas will become moist and tasty.