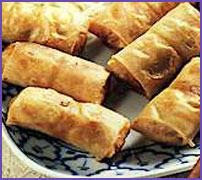 Indian Cooking Recipe : Quick Cheesy Roll Snack
Ingredients :
75 gms grated cheese
¼ teacup chilli sauce
2 tsp onions, chopped
1 large loaf white bread
melted butter or margarine
Method :
Combine the chilli sauce, onions and cheese.
Apply on thin slices of fresh bread with crust removed.
Roll up each slice tightly and fasten with a toothpick.
Brush with melted butter and bake in a hot oven at 400ºF until it turns golden brown.
Ready to serve hot.