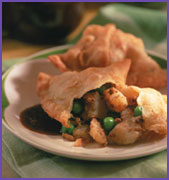 Indian Cooking Recipe : Samosa (Potato Patty)
Ingredients :
4 soft taco (tortilla)
2 boiled potatoes, peeled and
cut into ½ inch cubes
1 tsp cumin seeds
1 tsp red chili powder
¼ cup peas
1 tsp chopped cilantro
1 tsp garam masala
1 tbsp oil, plus oil for frying
1 tbsp all purpose flour
2 tbsp water to make a paste
Method :
Heat oil in a pan and put in cumin seeds. When they crackle, add red chili powder, potatoes, peas and salt.
Mix well and then add garam masala and cilantro. Keep aside.
In a small bowl mix all purpose-flour, water and make a paste. Cut tortilla in half.
Fold it into triangle shape, place the potato filling in and stick the edges tightly with paste.
Heat oil in a frying pan. Carefully slip it into the hot oil. Fry until it becomes crispy and golden.
Serve hot.