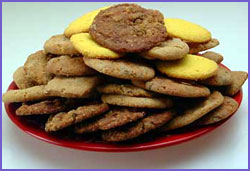 Indian Cooking Recipe : Shrewsbury Biscuits
Ingredients :
225 gms maida
85 gms margarine or butter
85 gms sugar
¼ tsp lemon essence (optional)
grated rind of 1 lemon
1 egg
Method :
Sieve the maida.
Cream the margarine and sugar properly until it becomes light and creamy.
Beat in the egg and lemon rind.
If you want, put ¼ tsp of lemon essence.
Put the sieved maida. If required, put a little milk and make a dough.
Turn the mixture on to a floured board.
Knead until it becomes smooth. Roll out thinly.
Prick all over with a fork. Stamp into rounds.
Place the biscuits on a greased baking tin.
Bake in a moderate oven at 350ºF for at least 15 to 20 minutes.