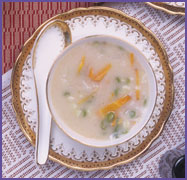 Indian Cooking Recipe : Quick Corn Soup
Ingredients:
¾ teacup cooked tender corn
1 onion, finely chopped
3 teacups milk
3 teacups water
1½ tbsp maida
1 tbsp butter
salt and pepper to taste
Method:

Combine the milk, water and maida.
Heat the butter and sauté the onion for at least 2 minutes.
Put the flour mixture and the corn.
Boil for 10 minutes. Stir in between and check that the soup does not stick to the bottom of the vessel.
Put salt and pepper.
Ready to serve hot.