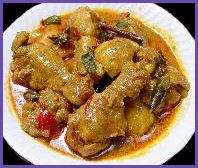 Indian Cooking Recipe : Lau With Coconut
Ingredients :
600-700 gms lauki
1" piece of ginger
1 cup coconut (desiccated)
½ tsp turmeric powder
½ tsp mustard seeds
2 bay leaves
3-4 green chillies (finely chopped)
salt to taste
For garnishing :
Coriander leaves (chopped)
Method :
Peel and cut the lauki into small pieces. Peel and great the ginger.
Cook the lauki adding salt to taste till the lauki is tender. Keep aside.
Heat the oil in a kadhai and add the mustard seeds and the bay leaves and allow them to splutter.
Mix in the grated ginger. Add the cooked lauki and mix well.
Cook over a medium heat for 2-3 minutes and then mix the desiccated coconut and the chopped chillies.
Cook over a medium heat, stirring from time to time till most of the water evaporates.
Serve garnished with chopped coriander leaves.
Serve with rice.