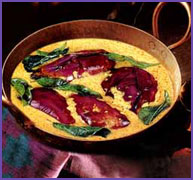 Indian Cooking Recipe : Mexican Eggplant
Ingredients:

1 Large Eggplant/Brinjal
3-4 Green Chillies
1 tsp Red Chilli Powder.
1 small can Tomato Sauce.
A few pitted Black Olives.
3 tablespoons Chopped Spinach
2 Cups Grated sharp Cheddar Cheese.
Oil, Salt to taste.
Method:

Cut the Eggplant into cubes of 1/2 inch to 3/4 inch thickness.
Place on cookie sheet and dote well with Oil.
Place in preheated oven at 425oF for 25 minutes (or untill soft).
Meanwhile simmer Tomato sauce with green chillies and red chilli powder and Salt.
Add to this Black Olives and Spinach. Cook well untill olives and spinach are soft.
In a cassrole dish layer one half the eggplant, sauce on top of it an d cheese. Repeat these layers. End with Cheese.
Bake uncovered in 350oF preheated oven for 25 minutes.
Serve steaming hot with Rice or Chapatis.