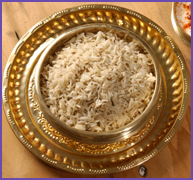 Indian Cooking Recipe : Salsa Rice
1 cup Uncooked rice
Salsa
2 tbsp Ghee/Oil/Butter
1/2 tsp Cumin seeds
Salt
Wash and drain rice
Heat the ghee/oil/butter
When it is hot enough, add the cumin seeds. Allow them to splutter
Add the rice and saute for some time.
Add just enough salsa to coat the rice.
Add salt to taste
Add the same amount of water you would normally use to cook rice
Cook in pressure cooker.
Eat hot. Tastes great with veggie dips or yogurt.