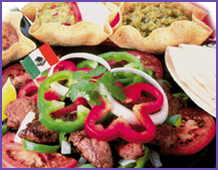 Indian Cooking Recipe : Vegetable Fajitas
Ingredients:

1 Green Pepper
1 Red Pepper Chopped Julliene
1 Yellow Pepper
1 medium Onion (Chopped fine)
2 red Chillies
1 tsp Black Pepper Powder
1 tbsp Cilantro/corriander leaves
Salt to taste
Oil
7-8 Mexican Tortillas or Chapatis
Method:

Saute the onion and red chillies in heated oil.
When onion becomes translucent, add the bell peppers. Stir well and cook until bell peppers become tender.
Add salt, pepper and Cilantro leaves (finely chopped).
Allow to cool.
Roll the above mixture in the Mexican Tortillas or Chapatis. About 1 tbsp in each.
Serve as a starter or an entire. Very Delicious and filling.