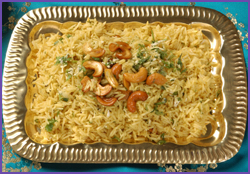 Indian Cooking Recipe : Sakkarai Pongal
Ingredients :
½ cup raw rice
1 tbsp green gram dal
1 cup sugar
8 cashewnuts
3 cardamom pods, powdered
a little saffron
5 tbsp ghee
1 pinch refined camphor (edible)
a few pinches nutmeg powder
8-10 kismis
1 cup milk
½ cup coconut gratings
Method :
Roast green gram dal lightly, till it smells.
Soak in water with rice for at least 15 minutes.
Put 2 cups of diluted milk and 1 tbsp ghee to the soaked rice-cum-dal mix.
Pressure cook for 8 minutes.
Roast cashewnut bits with 4 tbsp ghee in frying pan, on a low flame.
Put kismis, and stir. Add coconut gratings and roast till it turns golden yellow.
Prepare sugar syrup of thread consistency in a vessel.
Combine the cooked rice plus dal with it, and cook for 2 or 3 minutes on medium flame.
Put the cashewnut and coconut mixture.
Then put camphor (edible), jajikai (nutmeg), cardamom and saffron.
Turn over thoroughly, and serve.