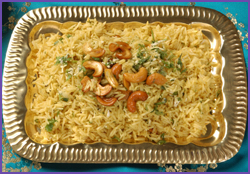 Indian Cooking Recipe : Venn Pongal
Ingredients :
2 cups rice
½ cup moong dal
a small pinch hing
curry leaves
cashews
½ tsp pepper
½ tsp cumin seeds
a small piece ginger, finely chopped
½ tsp ghee
1 tsp salt
Method :
Cook rice, moong dal and haldi powder with extra water and keep it aside.
Sauté pepper, cumin seeds, hing, curry leaves, and ginger in 2 tsp ghee, and add this to the above pongal.
Fry cashews in 1 tsp ghee and add to the above.
Add salt and remaining ghee and mix all the ingredients properly.