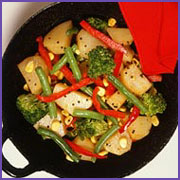 Indian Cooking Recipe : Balti Potatoes And Coriander (Aloo Dhaniya)
Ingredients :
250 g fresh coriander
2 tsp oil
125 onion, finely chopped
1 tsp fresh garlic, ground
250 g peeled potato, cut into cubes
1 tsp salt
½ tsp red chili powder
½ tsp turmeric
1 tsp ground fresh green chillies
1 tsp grated fresh ginger
Method :
To prepare the coriander, take the leaves off the stalks, add to a large bowl with plenty of water and soak for 20 seconds, so the silt can settle to the bottom. Gently remove the leaves and blend in a food processor.
Put the oil in a deep frying pan, put the onions and sauté till it becomes transparent.
Put the garlic and fry for further 1 minute.
Add the potatoes, salt, red chili powder and turmeric.
Cook on low heat for 5 minutes, or until potatoes are par-cooked.
Put the coriander and fresh chillies.
Keep it to boil on low heat, for 10 minutes or until potatoes are fully cooked.
Stir from time to time to prevent mixture from sticking to the bottom.
If the potatoes are cooked but liquid remains, cook uncovered until it evaporates.
Add the oil in a frying pan and grated ginger and cook on low heat for 1 minute or until brown.
Pour on top of the vegetables in the frying pan.