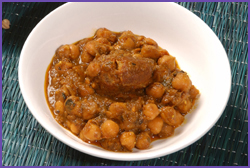 Indian Cooking Recipe : Chick Peas With Zucchini
Ingredients :

200 gm chick peas
250 gm zucchini or turai
3 cups vegetable stock
2 capsicums
¼ tsp nutmeg powder
1 tsp cumin seeds
½ tsp mustard seeds
2 tbsp coconut (grated)
3 tbsp oil
3 green chillies
1 tbsp lemon juice
For garnishing :
Coriander leaves (chopped)
Method :

Peel and cut the zucchini into small pieces. Cut the capsicums into circles.
Soak the chick peas overnight. Boil in salted water till they are tender and keep aside. Heat the oil and fry the vegetables and the green chillies for 3-4 minutes.
Add the fried spices and cook for another 2 minutes. Lower the heat and add the boiled chick peas. Add salt and stir gently. Mix in the vegetables stock and bring the curry to the boil. Simmer for 7-8 minutes and add lime juice. Stir gently. Garnish with coriander leaves and serve with yellow rice.