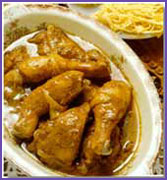 Indian Cooking Recipe : Chicken Corn Bakem
Ingredients :
750 gms chicken boiled & shredded
2 eggs lightly
1 tin creamed corn
3/4 cup cream
4-5 drops tabasco sauce
a pinch of mace
salt to taste
pepper
1 ½ tbsp butter
1 tomato for garnishing
Method :
Mix lightly with a wooden spoon- eggs, creamed corn, cream & butter.
Now add shredded chicken.
Add all the remaining ingredients except tomato & mix it well.
Smear the baking dish with a little butter.
Pour the contents in the dish leaving an inch of space on top.
Place it in preheated oven at 150 degree centigrade& then bake for 40 minutes.
Serve at room temperature.