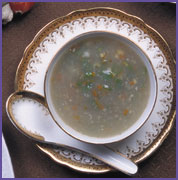 Indian Cooking Recipe : Corn And Peas In Creamy Sauce
Ingredients :

1 packet frozen corn or 2 teacups
cooked corn
2 teacups boiled green peas
2 potatoes, boiled
2 carrots, boiled
3 sliced onions
1 teacups fresh cream
2 teacups milk
3 tbsp flour
¾ teacup tomato ketchup
½ tsp chilli powder
2 tbsp butter
salt to taste

Method :

Open the packet of corn and thaw in a colander.
Slice the potatoes and carrots into cubes.
Combine the cream, milk, flour and tomato ketchup.
Heat the butter and sauté the onions until it turns pale in colour.
Put the corn, green peas, potatoes, carrots, the prepared sauce, chilli powder and salt and cook on a slow flame for at least 10 minutes.
If the sauce becomes too thick, mix a little milk or water.
Ready to serve hot.