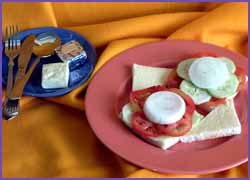 Indian Cooking Recipe : Irish Soda Bread
Ingredients :

1 kg flour
4 tbsp sugar
1 tsp baking soda
1 tbsp baking powder
½ tsp salt
150 g butter, softened
150 ml curd
150 ml milk
1 egg
Method :

Preheat the oven to 190ºC and lightly grease a large baking sheet.
In a large bowl, mix together the flour, sugar, baking soda, baking powder, salt and 125 g butter.
Whisk the curd and milk together and stir in 250 ml of this mixture into the bowl of flour along with the egg.
Knead to a smooth dough, turn out into a lightly floured surface and knead slightly to obtain a soft dough.
Shape into a round and place on the prepared baking sheet and allow to rest for at least 20 minutes.
Melt the remaining butter and in a small bowl combine with the remaining curd.
Brush the loaf with this mixture and using a sharp knife cut an 'X' into the top of the loaf.
Bake in a preheated oven for 45 to 50 minutes or until a toothpick inserted into the centre of the loaf comes out clean.
You can baste the loaf with the butter mixture as it bakes.
Take it along as an accompaniment for a soup or cut into slices to make sandwiches.