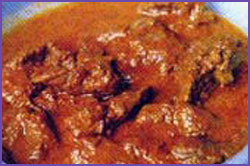 Indian Cooking Recipe : Marinated Chicken And Pork
Ingredients :
3 pounds chicken pieces
1 pound lean boneless pork, cubed
1 cup dry red wine
1/2 teaspoon black pepper
3 cups chicken broth
2 cloves garlic, crushed
3 tomatoes, chopped
1/2 teaspoon rosemary
1 teaspoon salt
Method :
Place chicken pieces and pork cubes in a large bowl.
Mix all other ingredients thoroughly, pour over chicken and pork. Allow meat to marinate for at least two hours in the refrigerator. It can marinate overnight if you'd like too.
Transfer chicken, pork, and marinade to slow cooker/Crock Pot.
Cover and turn on low for about 6-8 hours or until chicken and pork are thoroughly cooked. It tastes delicious over warm noodles.