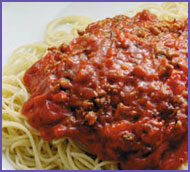 Indian Cooking Recipe : Spaghetti Spicy Tomato Sauce
Ingredients :
200gms spaghetti boiled
4 ripe tomatoes
60 ml tomato puree
2 bay leaves
5 gms crushed peppercorn
4 gms diamond cut of dry chilli flakes
05 gms salt
10 gms grated Parmesan cheese
05 gms chopped garlic
05 gms chopped onion
Method :
Boiled spaghetti at dente.
Take out the eye of the tomato and make 2 slashes by knife
Blanch for 10 seconds and plunge into cold water
Remove skin and deseed.
Sauté with onion and garlic
Add tomato pulp and tomato puree and cook.
Add bay leaf, crushed peppercorn and salt.
Toss the spaghetti in the sauce.
Add red chili flakes out into diamond.
Top with parmesan cheese and garnish with chopped parsley.