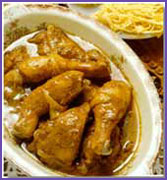 Indian Cooking Recipe : Sweet & Sour Chicken Dinner
Ingredients :
6 medium carrots, cut into 1/2" chunks
1/2 cup finely chopped green pepper
1/2 cup finely chopped onion
3 chicken breasts, cut lengthwise
1/2 tsp salt
1 - 10 oz. jar sweet-sour sauce
1 - 151/2 oz. can of pineapple chunks
3 tbsp cornstarch
3 tbsp cold water
Method :
Hot cooked rice
In a crockery cooker, place carrots, green pepper and onion.
Top with chicken breasts. Sprinkle with salt.
Pour sweet-sour sauce and pineapple chunks over all. Cover. Cook on low 7 to 8 hours or high 3 1/2 to 4 hours.
Remove chicken, keeping it warm.
Blend cornstarch and water, stir into juices in slow cooker/Crock Pot.
Cover; cook on high 10 to 15 minutes or until thickened. Season to taste and serve over rice.