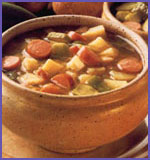 Indian Cooking Recipe : Sweet And Sour Vegetables Stew
Ingredients :
175 gms french beans
175 gms carrots
175 gms cauliflower
175 gms potatoes
175 gms green peas
175 gms small onions
2 large onions
1 tomato
1 apple
450 gms pineapple slices
1 tbsp cornflour
3 cloves
2 sticks cinnamon
½ teacup tomato ketchup
1 tsp chilli powder
3 tbsp ghee
salt to taste

Method :
Cut the large onions, French beans, carrots, cauliflower, potatoes and tomato into big pieces.
Cut the apple and the pineapple slices into big pieces.
Combine the syrup properly with the cornflour and keep aside.
Heat the ghee and sauté the sliced onions until it becomes golden in colour.
Put the cloves and cinnamon and fry again.
Put the cut vegetables, green peas and small onions and sauté for at least 3 to 4 minutes.
Put 1 teacup of water and allow the vegetables to cook.
When the vegetables are almost cooked, put the tomato, apple and pineapple pieces, cornflour syrup, tomato ketchup, chilli powder and salt and cook for a few minutes more.
Ready to serve.