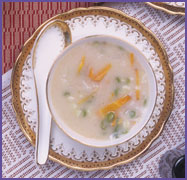 Indian Cooking Recipe : Thick Chicken Soup
Ingredients :

500 gm chicken breast
4 eggs
2 tbsp flour
a small bunch of celery
1 medium-sized onion
2 spring onions
3 tbsp butter
50 ml cream
2-3 green chillies (slit into halves)
2 bay leaves
½ tsp cinnamon powder
salt to taste
Method :

Pressure-cook the chicken breast with 4 cups of water and salt to taste.
Strain the chicken stock obtained by boiling the chicken and water.
Shred the chicken meat into strands and discard the bones.
Peel and chop the onion spring onions and the celery. Beat the eggs.
Heat the butter and add the bay leaves and the green chillies. Add the onion and fry till it is translucent. Mix in the spring onions and the celery.
Fry for 2 minutes and add 2 cups of water and bring the boil. Lower the heat and mix in the chicken stock and the shredded chicken pieces. In one cup of water mix the flour to form a smooth paste. Mix this paste gently into the simmering chicken stock. Blend well and allow the soup to simmer for at least 8-10 minutes.
Mix in the fresh cream. Stir gently and add the beaten eggs and immediately put off the heat. Allow the eggs to cook in the hot soup.
Serve hot.