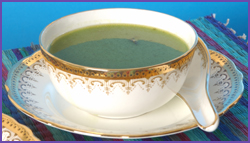 Indian Cooking Recipe : Vegetarian Soup
Ingredients:
4 tbsp matar ki dal (split peas)
1 medium-sized onion
50 gm carrot
50 gm green beans
50 gm turnip
150 gm cabbage
3 tbsp celery (chopped)
1 tbsp arrowroot powder
1 tbsp vinegar
1 tbsp pepper powder
2 tbsp butter
½ tsp cinnamon powder
salt to taste
For garnishing
1 tbsp parsley (chopped)
Method:
Soak the matar dal in water overnight. Drain out the water and keep aside.
Chop all the vegetables into one-inch pieces. Shred the cabbage.
Heat the butter in a large pan and fry the onion till it is just translucent.
Add carrots, beans, turnips and the soaked matar and 1 litre of water and bring to the boil. Lower the flame and allow the vegetables to simmer for 7-8 minutes. Add the celery and cook for another 5-6 minutes or until the vegetables are almost tender.
Mix in the vinegar and the cinnamon powder and season to taste with salt and pepper. Mix the arrowroot powder in 2 tbsp of water to form a smooth paste. Mix the paste into the simmering soup and blend well.
Cook for another 2-3 minutes and serve hot garnished chopped parsley.