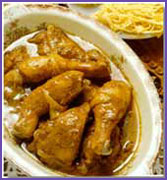 Indian Cooking Recipe : Whole Baked Chicken
Ingredients :
1 whole broiler-fryer chicken
1 teaspoon vegetable oil
2 to 4 carrots, sliced
2 ribs celery, sliced in 1-inch pieces
3 or 4 green onions, sliced
2 cloves garlic, minced
1/2 teaspoon dried oregano
2 cups low fat chicken broth
1 cup dry white wine
Salt & pepper to taste
Method :
Wash chicken and remove giblets from inside; dry and sprinkle lightly with salt and pepper.
Heat the oil in a large skillet and lightly brown the chicken on all sides.
Transfer to the Crock Pot; rinse the drippings out with some of the wine and pour over chicken.
Place carrots, celery, and onions around the chicken and season with salt and pepper.
Add the remaining ingredients. Cover and cook on low for 8 hours, or until tender. Remove the chicken and transfer juices to a saucepan.
Skim fat from juices and bring to a boil; boil until reduced to about 1 cup.