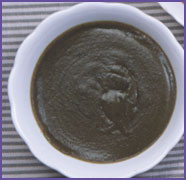 Indian Cooking Recipe : Coriander Leaves Chutney
Ingredients :
1 bunch coriander leaves
1 cup coconut gratings
10 green chillies
1 sprig curry leaves
oil for seasoning
salt to taste
½ tsp each of chana dal, black gram dal
½ tsp mustard seeds
tamarind lump (big bengal gram size)
Method :
Grind coconut gratings with green chillies and tamarind.
Before removing, combine coriander leaves with the masala and grind for another few minutes. Put salt to taste.
If you want you can also put 2 peeled garlic cloves or a few jeera.
For thick chutney no seasoning is required.
or else, season the chutney with dals of chana and black gram, mustard and curry leaves in oil.