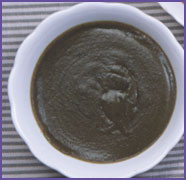 Indian Cooking Recipe : Coriander - Onion Chutney
Ingredients :
¼ cup urad dal
1 cup chopped onion
¼ tsp hing
1 tbsp tamarind pulp
2 red chillies
¼ cup coriander, chopped
2 tbsp oil
salt to taste
For the tempering :
½ tsp mustard seeds
2 red chillies, broken into pieces
1 tsp oil
Method :
Wash and soak the dal for at least 15 minutes.
Heat the oil in a pan, put the soaked dal and fry till it becomes lightly brown.
Put the onion, hing, tamarind pulp, red chillies and salt and sauté for a few minutes. allow it to cool and keep aside.
Blend the dal and onion mixture and the coriander into a blender.
Put ¼ cup of water and grind to make a coarse paste.
Prepare the tempering by heating the oil in a pan, adding the mustard seeds and frying till they crackle.
Put the red chillies and sauté for a few seconds and then pour the tempering over the chutney. Mix well.
Refrigerate and use whenever required.