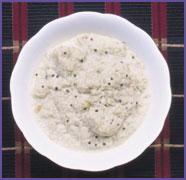 Indian Cooking Recipe : Dosai Chutney
Ingredients :
1 cup coconut gratings
4 roasted red chillies
6 green chillies
tamarind lump (size of bengal gram)
1 pinch mustard seeds
1 tsp black gram dal
1 sprig curry leaves
2 tsp oil
salt to taste
1 tsp coriander seeds (optional)
Method :
Grind coconut gratings with roasted red chillies and tamarind.
When half done, add green chillies and 1 tsp coriander seeds (optional) and salt to taste.
Grind again to a fine paste. Transfer to a vessel.
Add desired quantity of water.
Season with black gram dal, mustard and curry leaves in oil.
Mix and serve with dosai.