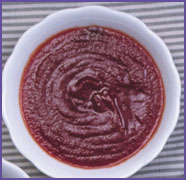 Indian Cooking Recipe : Ginger Chutney
Ingredients :

a small piece ginger
1 cup coconut gratings
4 roasted red chillies
salt to taste
6 green chillies
tamarind lump (size of bengal gram)
Method :

Grind coconut gratings with roasted red chillies and tamarind smoothly.
Before removing, put ginger, green chillies and salt to the masala and grind for another few minutes.
No seasoning is required for thick chutney.
Otherwise, season with mustard and curry leaves in oil.
Brahmi (ekpani) leaf chutney is prepared by the same method.
Only a handful of brahmi leaves are mixed while grinding the chutney.
Retain some chutney in the grinder.
Put as much water as desired. Stir well.
The same is ginger/brahmi leaf thambli.