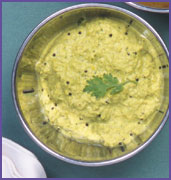 Indian Cooking Recipe : Raw Mango Pachadi
Ingredients :
1 big unripe mango
1 cup coconut gratings
asafoetida water
½ tsp mustard seeds
8 green chillies
1 sprig curry leaves
4 tsp oil
salt to taste
Method :
If mango is well seasoned (with stone inside) grate on a vegetable grater.
Otherwise, chop it.
Crush together coconut gratings, green chillies and salt in grinding stone.
Put chopped mango and crush well.
Season with mustard and curry leaves in oil, using a ladle.
Finally, put a few drops of asafetida water. Mix well and serve.