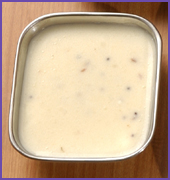 Indian Cooking Recipe : Bengal Curry
Ingredients :
2 tbsp toovar dal
3 tbsp chana dal
3-4 red chillies
2 pinches asafoetida powder
1 tsp black gram dal
½ tsp mustard seeds
3 tbsp oil
Curry leaves, chopped
2 cups chopped beans
Salt to taste
Method :
Soak chana dal and toovar dal in water for half an hour.
Grind coarsely with red chillies, salt and asafoetida.
Steam cook for at least 10 minutes.
When cool, break (pulverize by hand) like bread crumbs.
Wash beans and cut into ¼" pieces. Boil in a little water.
Drain and squeeze the beans of all water.
Prepare seasoning in frying pan with mustard and black gram dal in oil.
Roast till the dal turns golden brown.
Put the dal mix and curry leaves in it.
Cook on medium flame till oil leaves the mixture.
Put beans and a little salt and cook for another 5 minutes.
Take out from flame.