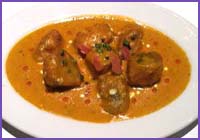 Indian Cooking Recipe : Cumin And Pepper Rasam (Method 1)
Ingredients :
2 tsp toovar dal
¾ tsp cumin seeds
½ tsp pepper
3 red chilli
½ tsp imli paste
¼ tsp haldi
a few curry leave
3 cups water
½ tsp ghee
1 tsp salt to taste

Method :
Soak toovar dal, ½ tsp cumin seeds, pepper, red chilli, and curry leaves in water for 15 minutes.
Wet grind the above mixture.
Bring 3 cups of water to a boil and add imli paste, salt and haldi.
Allow it to boil for a few minutes and then add the ground masala.
Fry ¼ tsp cumin seeds and 1 red chilli in ghee. Add this to the rasam.