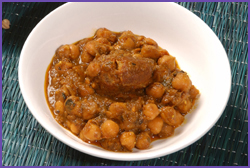 Indian Cooking Recipe : Curried Chick Peas
Ingredients :
1 can chick peas
1 onion, finely chopped
1 tsp minced garlic
1 tsp minced ginger
1 tomato, chopped
1 tsp cumin powder
1 tsp chilli powder
1 tsp coriander powder
1 tsp garam Masala
A few cilantro Leaves
½ tsp tamarind paste.
1 tbsp oil
Method :
Put the tamarind paste in some hot water.
Heat the oil and fry onions, add garlic and ginger and fry for 2 minutes.
Put the garam masala and cook for a minute. Put tomatoes, and continue frying. Put cumin, coriander and chili powders, and season with salt.
Fry for another 5 minutes. Add chick peas, cook for a few minutes.
Add ½ cup of water and the tamarind paste and allow it to boil.
Garnish with cilantro leaves.