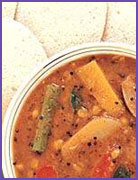 Indian Cooking Recipe : Drumstick Leaves Curry
Ingredients :
4 cups drumstick leaves
½ cup coconut gratings
5 green chillies
1 small piece haldi
1 tsp jeera
½ tsp toovar dal
3 red chillies
½ tsp mustard seeds
1 sprig curry leaves
4 tsp oil
salt to taste
Method :
Cut drumstick leaves finely.
Wash toovar dal and the leaves. Combine them together.
Pressure cook (in about 2 cups of water) for at least 15 minutes.
Grind fine masala using coconut gratings, haldi and green chillies.
Put jeera and grind for a while. Transfer the masala to a vessel.
Remove dal - leaf mixture when cool and cook it again in another vessel.
Put salt and allow it to boil. Combine the masala and boil properly.
Take out from flame. Season with red chilli pieces, mustard and curry leaves in oil, with a ladle.