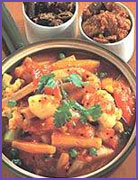 Indian Cooking Recipe : Gajbaj Ambat
Ingredients :
7-8 vegetables
1 cup coconut gratings
7 roasted red chillies
tamarind lump (size of marble)
2 tbsp oil
½ tsp mustard seeds
1 spring curry leaves
salt to taste
Method :
Cut selected vegetables and cook in water.
When cooked, put a little salt and turn over.
Grind coconut gratings with roasted red chillies and tamarind to make a fine paste.
Combine the masala with cooked vegetable pieces and allow it to boil.
Take out from flame.
Season with mustard and curry leaves in oil, using a ladle.