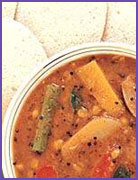 Indian Cooking Recipe : Goddu Kolambu
Ingredients :
1 tamarind lump
4 tbsp oil
1 tbsp sambar powder
1 tbsp gur
1 tsp toovar dal
a little haldi powder
a little asafoetida
2 red chillies
1½ tsps salt
½ litre water
Curry leaves
1½ cups mixed vegetable pieces (drumstick, lady's fingers, beans etc.)
½ tsp fenugreek seeds
Method :
Soak tamarind in water.
Squeeze several times and take out about ½ litre of juice.
Keep aside. Heat oil in frying pan.
Prepare seasoning with mustard, toovar dal and fenugreek.
Roast for a while. Then put red chillies, asafetida and curry leaves.
When dal turns golden brown, put vegetables pieves and roast for 2-3 minutes.
Pour tamarind juice, add sambar powder, haldi and salt and cook for at least 5 minutes.
Finally, put crushed gur and take out from flame.