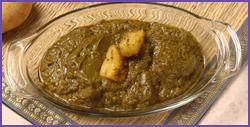 Indian Cooking Recipe : Moor Keerai
Ingredients :
1 bunch spinach, finely chopped
2 to 3 cups buttermilk
½ tsp cumin seeds
3 tsp coconut
2 green chillies
1 red chilli
¼ tsp mustard
a small pinch hing
1 tsp salt to taste
½ tsp cooking oil

Method :
Boil spinach with little water, and some salt.
Wet grind coconut, cumin seeds, and green chillies and mix it with the boiled spinach.
Add buttermilk to above and allow it to boil for a few minutes.
Heat some oil in a pan, splutter mustard, then add hing, and red chilli and add this to the above.