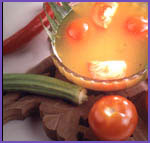 Indian Cooking Recipe : Okra Curry
Ingredients :
250 gms okra, washed, diced and dried
½ tsp urad dal
¼ tsp mustard
A small pinch hing
A small pinch turmeric
½ tsp chill powder
1 tsp yogurt
3 tsp cooking oil
½ tsp salt
Method :
Heat some oil and put the mustard. When they crackle, put urad dal, hing, turmeric, and add the diced okra.
Add salt and mix it well. Let it to cook for 10-15 minutes.
Now put chilli powder and 1 tsp yogurt and keep frying for 5 to 10 minutes.