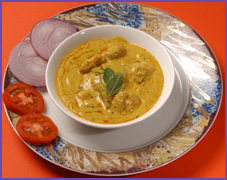 Indian Cooking Recipe : Onion Kolambu
Ingredients :
1 big onion,chopped
2 tomatoes
3 tbsp oil
tamarind lump (lime size)
2 cups water
2 red chillies
2 green chillies
¼ tsp haldi powder
curry leaves
½ tsp mustard seeds
1 tsp chana or black gram dal
1 tsp sambar powder
1 tsp coriander powder
a little asafoetida
1 tbsp sugar
1 tsp salt

Method :
Soak tamarind in hot water.
Extract juice by squeezing several times and make 2 cups of jucie strain.
Add sambar powder, coriander and salt in the juice.
Heat oil in frying pan and put mustard. When it crackles add dal.
When it is half cooked, add red chillies.
When dal turns golden brown, add chopped onion, haldi and asafoetida. Roast for a while.
When onion turns transparent, put tomato pieces, chopped curry leaves and green chillies.
Roast for another few minutes and add tamarind juice. Boil for 5 minutes.
Finally, add sugar. Remove from flame.