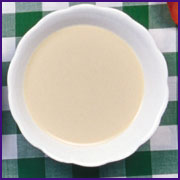 Indian Cooking Recipe : Ordinary Rasam
Ingredients :
¼ cup toovar dal
2 cups water
¼ tsp imli paste
2-3 tomatoes
1 tsp rasam powder
a small bunch cilantro, finely chopped
a small pinch hing
¼ tsp haldi
¼ tsp cumin powder
¼ tsp pepper powder
½ tsp lemon juice
½ tsp ghee
1 tsp salt to taste

Method :
Cook toovar dal with 2 cups of water and keep it aside.
Boil tomatoes in 1to 2 cups of water, then put imli paste, hing, salt, and haldi. After tomatoes are cooked, put rasam powder, and allow it to boil for 5 minutes. Now put toovar dal and let it cook for a few more minutes.
Heat some ghee and put the mustard in it.
When the crackle, add pepper powder and cumin powder to this before mixing this with the rasam.
Garnish with chopped cilantro.